Grafted Vegetables

Grafted vegetables are created when the top part of one plant (the scion) is attached to the root system of a separate plant (the rootstock). The rootstock contributes vigor and disease resistance while the scion is chosen for fruit flavor or quality.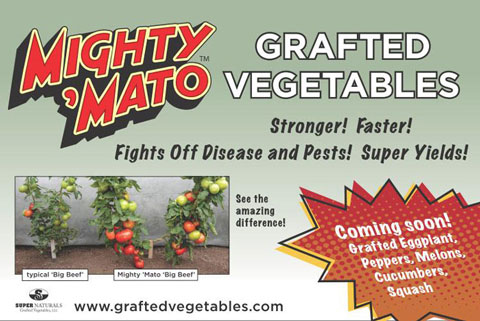 Introducing Our First Crop Ever of Grafted Tomatoes! - Our Garden News article about the history, methods, and benefits of grafting
Teaming Tomatoes - Gardening article about grafted tomatoes in The Register-Guard on April 21, 2011
Grafted tomatoes grab attention with improved vigor, production and disease resistance - by Kym Pokorny for The Oregonian
Close-up photos of grafted stems (macrophotography) - Photos and interpretation by Anthony Boutard
You can hear more about grafted tomatoes by downloading a podcast or mp3 file of Garden Life's radio show for January 9, 2011.
Watch for special events with Steve Goto, the Tomato King, of Gotomato.

Big Beef tomato comparison in the Log House garden.
Non-grafted on the left vs. grafted on the right.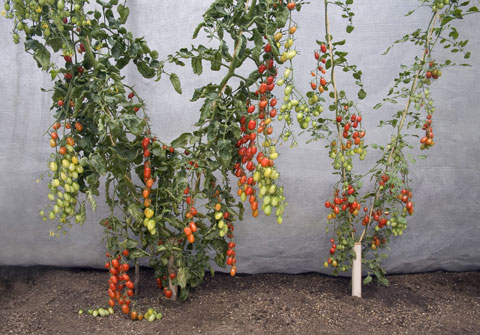 Grafted Cupid tomato on the left vs. non-grafted on the right.

Grafted Tomatoes on Garden Time:


Grafted Tomatoes at 2011 Spring Trials:


Grafting for Disease Resistance in Heirloom Tomatoes - Publication from the NC Cooperative Extension Service
Grafting Can Help Fight Foliar Diseases, OSU Researchers Find – Ohio State University research found that grated tomatoes are more disease resistant and have higher levels of flavonoids
Grafting Techniques for Greenhouse Tomatoes – Article by Richard McAvoy, University of Connecticut
Tomato Grafting Research Program - North Carolina Cooperative Extension research, presentations, and handouts
Tomato Grafting Project – Ohio Agricultural Research and Development Center research project (Ohio State University)
Vegetable Grafting Information Website - Research project from the University of Arizona and US Horticultural Research Laboratory
Tomato Grafting – Organic farmer Jack Manix from Vermont shares his grafting experiences
Grafted Vegetables - color handout with pictures and grafting info
Grafted Vegetables - You're Going to Want Them - by Mary Kate Mackey
Grafted Tomatoes - Blog entry from Portland Monthly's Plantwise
Tomato Grafting video from Johnny's Selected Seeds
What's That You Say? Grafted Tomatoes? - Garden Rant post with Ann Lovejoy
Super Naturals Grafted Vegetables - Mighty 'Mato grafted tomatoes
Grafted tomatoes: bigger, better for home gardeners - by Val Easton for The Seattle Times