What To Do With The Bounty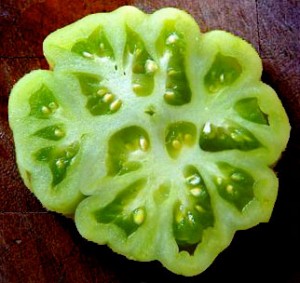 Though fall is coming in slowly, with luxuriously warm, sunny days, the nights are getting colder. This morning, the temperature was in the 30's for the first time this month, and I decided it was time to start picking green tomatoes. I have had bumper crops from my grafted plants, and less than splendid crops from the ungrafted ones, which I think reflects the grafted plants' ability to cope well with the cool grey days we had clear through July. I have heard similar results from friends and co-workers who tried grafted tomatoes for the first time. Their grafted plants are still bearing heavily and they too have bumper crops to deal with as cool weather approaches.
I've been keeping up well with the various cherry tomatoes and though I picked a little basketful to bring into the kitchen I am willing to risk the remains of those by leaving them on the vine until frost finally arrives. Many of the larger tomatoes are still green, and again I am harvesting most an leaving a few to see if they'll ripen on the vine before we get a killing frost.
Black As Midnight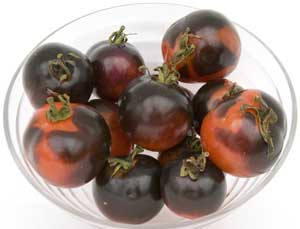 My new favorite tomato is Indigo Rose, a hybrid whose pedigree includes wild tomatoes from the Galapagos with naturally dark skins. Dark leaf coloration is nature's sunscreen, and perhaps it makes sense that the skins of these tomatoes would act as protection in their native land. (The Galapagos have two seasons; warm and dry.) Those dusky skins also pack a lot of nutritional benefits, including some of the anthocyanins that make blueberries so good for us.
The good news is that when they ripen, these almost-black tomatoes taste fantastic, with a scintillating tart/sweet balance. The bad news is that they mostly don't ripen, at least not in my garden. The next good news is that they still taste amazing; I slice them thinly into salads, chunk them into soups and stir fries or saute them with garlic, onions, and kale for a truly memorable side. The other good news is that they do ripen indoors, especially when snuggled into a paper bag with an apple for encouragement. The ethylene gas produced by a ripe apple triggers also ripening in other fruits and now my indoor tomatoes are finally starting to mature.
Sweet And Savory Tomato Dishes
Fragrant and lightly spicy, Tomato Apple Chutney is a delicious addition to salad dressings and makes an unusual appetizer dip for sliced apples and pears. It's also lovely spooned over grilled fish or chicken as well as basmati or nutty-tasting Bhutanese red rice. It keeps a long time in the refrigerator and makes a very welcome holiday gift.
Tomato Apple Chutney
1 teaspoon safflower oil
1 teaspoon coriander seed
1 teaspoon mustard seed
6 green cardamom pods
2 white or yellow onions, chopped
1 teaspoon kosher or sea salt
1 quart ripe tomatoes, sliced in wedges
2 tart apples, cored and chopped
2/3 cup apple cider vinegar
1/3 cup sugar
In a deep pan, heat oil, seeds, and pods over medium high heat to the fragrance point (1-2 minutes).  Add onions and salt and cook for 10 minutes. Add tomatoes and apples and cook until soft (10-15 minutes). Add vinegar and sugar and cook for 20 minutes. Remove green cardamom pods, pour chutney into sterilized jars and seal. Makes about 5 cups.
Preserving Ripe Tomatoes
Home grown tomatoes often ripen in a rush, leaving the cook with a pantry full of produce that won't wait. While drying or canning are the usual methods, I've had good luck freezing roasted tomatoes for up to three months, especially when prepared without seasonings that can develop off-flavors in the freezer.
Roasted Ripe Tomatoes
2 quarts medium red tomatoes, cut in half
1 tablespoon olive oil
Preheat oven to 350 degrees F. Rub each tomato, (skin side only) with oil, then place them cut-side-down in a single layer on a rimmed baking sheet. Bake at 350 degrees F until soft and edges are lightly caramelized (50-60 minutes). Pack in jars and seal or puree first for a smoother sauce. Freeze for up to 3 months (use straight-sided jars and leave an inch of head room). Makes about 4 cups.
A Family Favorite Red Sauce
Thawed or just made, pureed roasted tomatoes are luscious in Spunky Red Sauce, which tastes like you spent hours making it but cooks up in minutes. Serve over pasta, quinoa, or rice and prepare to receive complements.
Spunky Red Sauce
2 teaspoons olive oil
3 cloves garlic, chopped
1/4 teaspoon red pepper flakes
2 tablespoons pitted Kalamata olives, chopped
1 onion, chopped
1/4 teaspoon sea salt
2 stalks celery, chopped
2 cups ripe tomatoes, chopped
2 cups pureed roasted tomatoes (thawed if frozen)
2 teaspoons capers, drained
2-3 tablespoons fresh goat cheese, crumbled or Asiago, grated
In a sauce pan, heat oil, garlic, pepper flakes, olives and onion over medium high heat for 2 minutes. Sprinkle with salt, add celery and cook until barely tender (3-4 minutes). Add chopped tomatoes, bring to a simmer, add tomato puree and capers, bring to a simmer and serve at once over pasta or  rice, garnished with cheese. Serves 4.